JH18AP-18D8-B2 Low Noise Industrial air cooler
Product Detail
Video
Product Tags
Advantages :
1.Cooling pads are available for different thickness as 120mm or 100mm.
2.The circular air duct helps the air cooler to lower the noise :70dB(A) 
3.Bigger airflow and bigger pressure because of the new Outlet Diversion

4.11 leaves Fan blade make the air cooler with more pressure and could drive longger duct.
5.Group Control available for 1-28 units air coolers.
6.With a New Luxury Intelligent tough screen controller.
7.Economical and energy-saving :only 1.1kw per hour,less than 1/3 the price of air conditioning but 10 times energy saving.
8.Keep door and window open,always with fresh air.
9.Higher cooling efficiency--18000 M3/h air flow provide you 100-150m2 fresh cool air by low energy .--Distance Cooling effective-8~10 °C↓
10.Multi-functional: can be used as humidifier,air purifier,airfilter,ventilator,fan.
11.The body material adopts modified copolymerization New PP engineering plastics shell, ultraviolet resistance, corrosion resistance, anti-aging, resistance to deformation.
Details
Evaporative cooler is a device that cools air through the evaporation of water. Evaporative cooling differs from typical air conditioning systems which use vapor-compression or absorption refrigeration cycles. 
Evaporative cooling works by employing water's large enthalpy of vaporization. The temperature of dry air can be dropped significantly through the phase transition of liquid water to water vapor (evaporation), which can cool air using much less energy than refrigeration. In extremely dry climates, evaporative cooling of air has the added benefit of conditioning the air with more moisture for the comfort of building occupants. 
The power consumption is only 1/8 of the traditional air conditioner. Widely be used in internet cafes, base station, factory, supermarket etc.
Parameter
| Model | JH18AP-18D8-B2 | JH18AP-18T8-B2 |   |
| --- | --- | --- | --- |
| Airflow(m3/h) | 18,000 | 18,000 |   |
| Power(kW) | 1.1 | 1.1 |   |
| Speed | 16(Inverter) | 16(Inverter) |   |
| Fan Type | Axial | Axial |   |
| Water Tank(L) | 30 | 30 |   |
| Noise(dB(A)) | ≦75 | ≦75 |   |
| Water Consumption(L/H) | 15-20 | 15-20 |   |
| Net Weight(kg) | 80 | 81.5 |   |
| Coverage(m2) | 100-150 | 100-150 |   |
| Dimension(mm) | 1160*1160*940 | 1160*1160*980 |   |
| Air Discharge | Down | Top |   |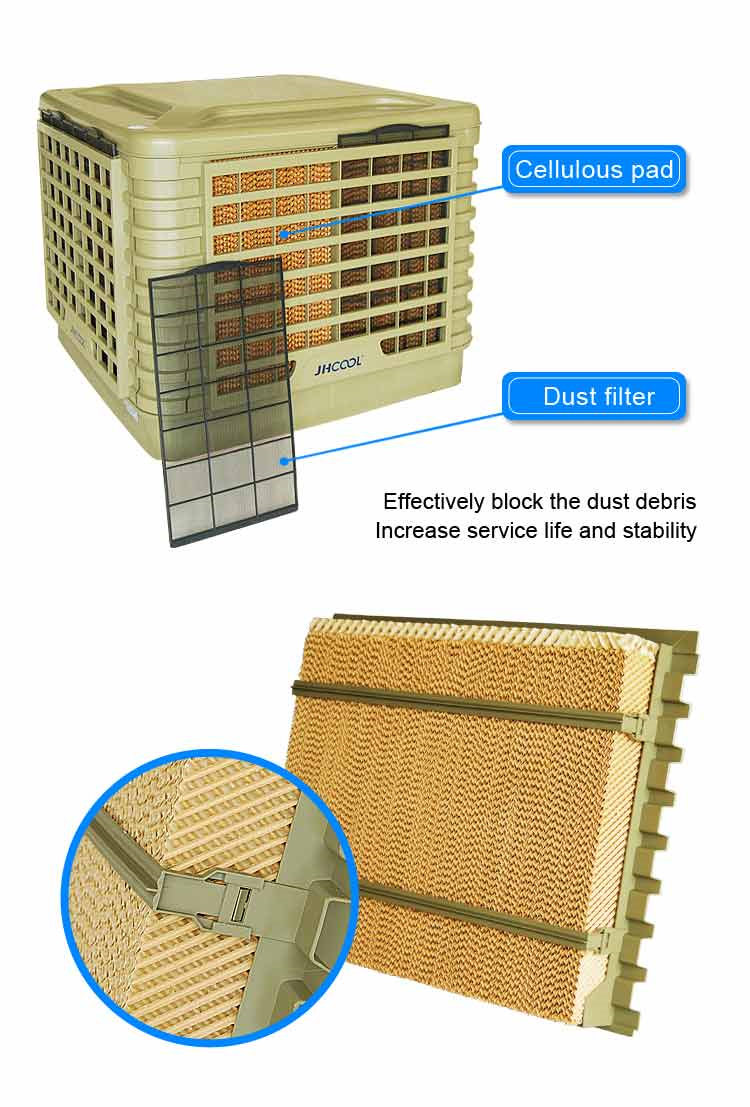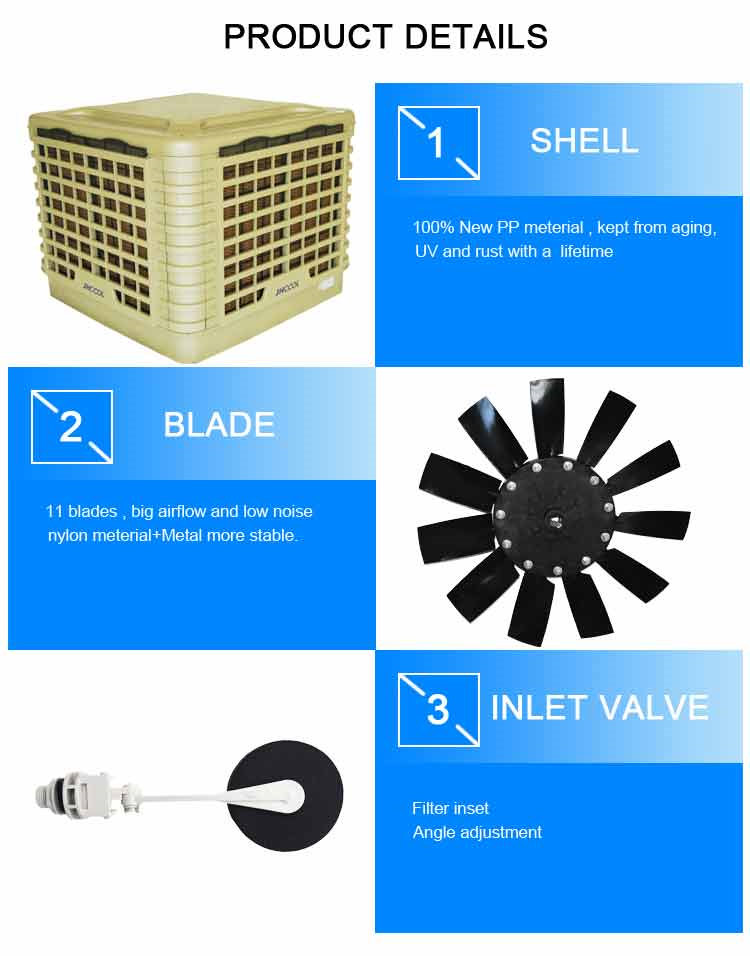 ---
Previous:
WiFi Electric Infrared Heater JH-NR-13W
---